We help you plan, design and facilitate task-focussed meetings, online and face-to-face.
Meetings where you deal with complex issues and make sustainable decisions together. Decisions that you implement wholeheartedly, and thereby get the most out of the engagement, time and money you invest.
Meetings where you are curious about and make fruitful use of your differences, where you allow yourselves to be surprised, confused, disturbed, and inspired.
Meetings where you grow as human beings and develop your business – at the same time.
Careful planning, appropriate design, and mindful facilitation are keys to meaningful meetings.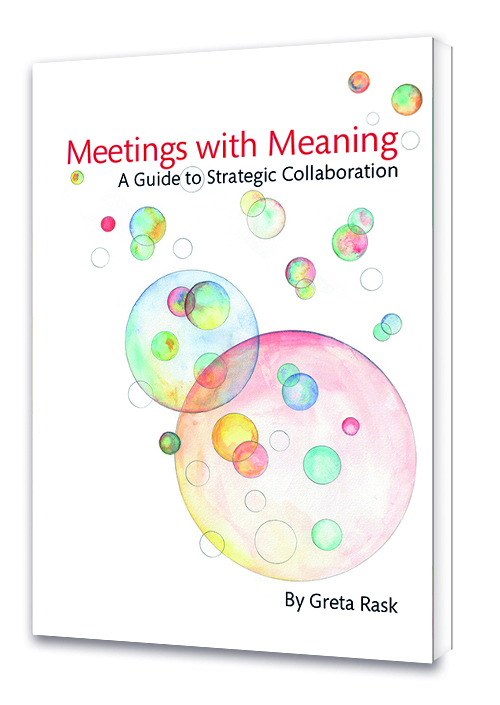 "Greta designs and facilitates business meetings that get the best out of people, where everyone's thinking comes together. She makes us a united force and she does it with a deep understanding and respect for cultural differences."
"I have really appreciated working together with Greta in designing and implementing a number of organizational development activities in both Sweden and India. She is an effective partner and facilitator who stays focused on results while remaining sensitive to both the needs of individuals and the dynamics of any group. Greta's sessions have had a lasting impact on the development of our business, the interpersonal relations of our teams and on the leadership development of individuals."
"Greta's daring approach makes this book valuable for every manager working in complex environments. Full of great paradigms from working life, it offers a human touch and keeps you engaged up to the last sentence. It changed my mindset and greatly helped me to create meaningful meetings in my work."
"Everywhere people are coming together, collaborating and teaming for change. We need to make meetings opportunities for value creation, and a place where engagement grows. Every manager and project manager needs to read this book that is inspired by Greta's experience helping her clients."
Do you want to explore how we can collaborate?